Hot Springs Pool
Whether it's after a day of golf on our championship course, or a day snow tubing, cross country skiing, or Snolfing, you will not want to miss the opportunity to enjoy our hot springs pool. Swimming is a favorite activity of both children and adults. Pool depth is 2' feet to 5' feet.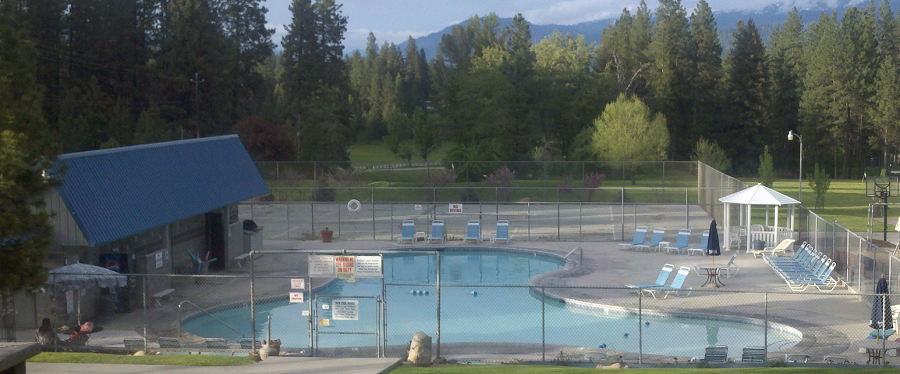 Our outdoor pool is surrounded with beauty of the Boise National Forest. At Terrace Lakes Resort, the hot springs water is used to fill our immaculate outdoor pool, keeping it open and heated year round.
For thousands of years, people have regarded hot springs water as a way to relieve health problems and to relax. Natural hot springs water has a high mineral content including the following minerals:
Silica: Thought to soften the skin with natural exfoliating properties.

Calcium and Magnesium: Thought to ease bone, joint, and muscle pain.

Sodium Bicarbonate: Thought to soothe sun and wind burn, as well as other skin discomforts.
We want our guests to come and enjoy the hot springs pool and the surrounding area. We have rules at the pool for your safety and the safety of others around you. First off, we are a licensed establishment, we have zero tolerance for bringing in OUTSIDE ALCOHOL. If you do, we will confiscate it and you will be asked to leave the pool area. This includes members and guests. If you want to drink, ask the attendants at the pool and they will get you a wrist band and you can purchase your drinks at our Pavilion or our Lounge.
Come experience our pool in any season, you'll be glad you did!
HOURS OF OPERATION
Monday-Thursday: 10:00 AM - 8:00 PM
Friday & Saturday: 9:00 AM - 10:00 PM
Sunday: 9:00 AM - 8:00 PM