Restaurant and Lounge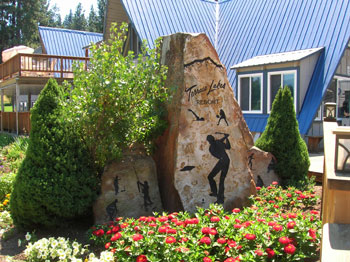 At Terrace Lakes Resort, we are proud to offer our guests a full service restaurant in the heart of the beautiful mountains of the Boise National Forest. Breakfast, lunch, and dinner are served at our restaurant which is located right inside the lodge. Patio dining is available.
For breakfast we have all the hot cooked meal essentials. French toast, hot cakes, biscuits and gravy, ham, sausage, omelet options and eggs are available. Consider one of the specials for a heartier choice. We offer a la carte breakfast sandwich options as well.
Burgers, hot dogs, chicken strips, finger steaks, pizzas, grilled cheese sandwiches are served at lunch time. A wide variety of different featured sandwiches are available. Several salad options are available for anyone looking for a lighter meal.
The dinner menu features a wide range. Nachos, quesadillas, wings, egg rolls & more for small plates or appetizers. More formal dinners are offered as well. BBQ Ribs on Friday nights and Prime Rib dinners on Saturday nights as well as several other different cuts of steak, served with choice of potato and vegetable. Pasta, chicken, and fish available as well. Check out Daily Specials. We have pizzas made fresh to your specifications.
When you're ready for a break, be sure to visit our cocktail lounge/Sports Bar. Located on the second floor, it's the perfect place to relax with friends or to catch the big game on our big screen TVs. Shuffleboard, pool tables & games are also available.